Get a bottled crane free with any purchase from Faire Miscellany.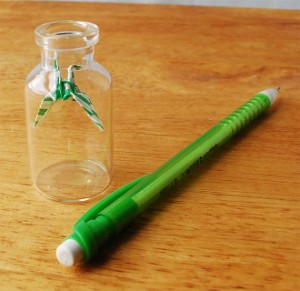 Bottled cranes make unique decor items both at the office and at home. They are little origami cranes inserted into small glass bottles. Small, not tiny. Simple friction keeps them floating. This makes them easy to move within the bottle.
There are over twenty varieties to chose from in our store.
From now until February 14th you can chose any one bottled crane to go along with any purchase. It can be a buy-one-get-one-free or simply an addition to a sumptuous cape. Simply name your crane in the comment section of the purchase form.
All crane listings have a code at the end of the title. The fastest and surest way to get the bottled crane of your choice is to mention that code.