Origami crane earrings.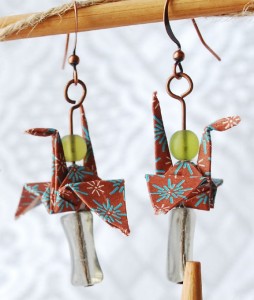 We make a wide variety of origami crane earrings. This particular pair has the unique brown coloring and smoky glass beads that can start conversations. We are giving them away to promote the March Super Hearts Treasury. To see the treasury, click here.
To enter the contest you must leave a comment on this post answering the question, "Which of the items in the March Super Hearts Treasury do you like best?" You don't have to mess with Rafflecopter to be included but doing so will give you extra entries.
Contest Ends March 30th.
Thanks for playing and good luck.
More to come.